EZONE ( E Couriers Ltd)
eZone has been connecting customers to the world since 2003. Starting from one small branch with one big idea eZone has grown to 24 branches in the Caribbean, Dubai and Ghana with hubs in Miami and London. At eZone we connect you with the world via eZ, affordable and fast online shopping and shipping. Simply order something online from your favourite US / UK store and ship it to your personal eZone address. You can track your package and will be notified by your local branch when it has arrived. It really is that eZ!
Manager: Mr. Corey Devaux
Location: VIDE BOUTEILLE CASTRIES, VIEUX FORT, SOUFRIERE, AND NOW OPEN IN GROS ISLET! ( INSIDE THE A.F VALMONT BUILDING)
Contact: 1 (758) 451-3004
Email:  stlucia@getezone.com
Website: http://www.getezone.com/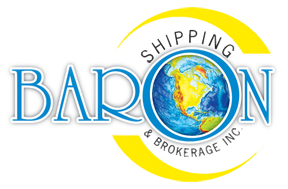 Baron Shipping & Brokerage Inc.
Baron Shipping & Brokerage Inc represents sea freight lines, which sails weekly from Jacksonville and Miami in the United States and Zim Line which sails from every major port and all continents in the world.  We move cargo (less than a container load and full loads) worldwide.  We extend brokerage and trucking service to our clients and other business houses, along with the host of other services that we provide at competitive rates and terms.
Manager: Mr. Willibald Charles
Location: NAPA Building, John Compton Highway, Castries, St. Lucia
Contact: 1 – 758 – 453 – 0344
Email: info@baronshipping.com / willibald@baronshipping.com
Website: www.baronshipping.com/